JOURNAL OF TROPICAL AGRIFOOD is a peer-reviewed journal, which is published by Faculty of Agriculture, Mulawarman University, Samarinda - East Kalimantan Publishes semi-annually in June and December. This journal is academic journal for research article and review in the field of agricultural technology including agricultural engineering, postharvest physiology and technology, agricultural product processing technology, food science and technology, biotechnology, nutrition, herbal, and functional food.
JOURNAL OF TROPICAL AGRIFOOD published at first Vol. 1, No. 1, 2019 in June 2019 and can be accessed online on http://e-journals.unmul.ac.id/index.php/.
Reviewers will review any submitted paper. Review process employs a double-blind review, which means that both the reviewer and author identities are concealed from the reviewers, and vice versa.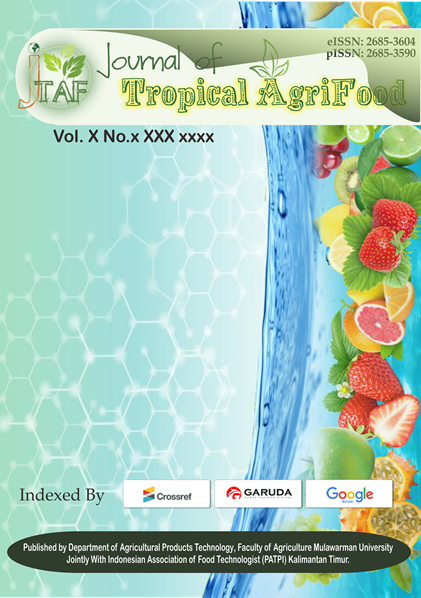 Announcements
No announcements have been published.
Volume 5, Nomor 1, Tahun 2023 (InPress)
Journal of Tropical AgriFood, June 2023
Table of Contents