CaLLs (Journal of Culture, Arts, Literature, and Linguistics) is academic, open access, and peer-reviewed journal. First published in 2015 and managed by Faculty of Cultural Sciences, Universitas Mulawarman (Samarinda - Indonesia). The focus and scope of CaLLs include, but are not limited to the following topics: research and learning in culture, language, literature, and arts. Issues are published two times per year in June and December and published in Bahasa and English.
Submissions are open year-round. However, before submitting an article, please ensure that the article fits into CaLLs's focus and scope, is written in Bahasa or English, and follows our author guidelines. 
CaLLs accredited Rank 4 by Ministry of Research, Technology and Higher Education (Number 36/E/KPT/2019, December 13, 2019). Valid from Volume 5 Number 2 (2019) until Volume 10 Number 1 (2024).
p-ISSN: 2460-674X
e-ISSN: 2549-7707


Editorial Address
Faculty of Cultural Sciences, Universitas Mulawarman
Address: Jl. Ki Hajar Dewantara, Gunung Kelua, Kec. Samarinda Ulu, Kota Samarinda, Kalimantan Timur, Indonesia 75123
Email: jurnalcalls@fib.unmul.ac.id
Website: http://e-journals.unmul.ac.id/index.php/CALLS 
Phone: +6287786318599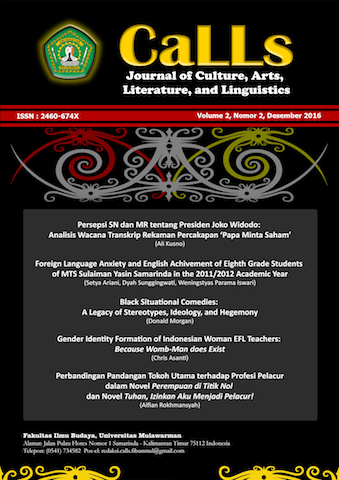 Announcements
News: PENERBITAN NASKAH

Mohon maaf kepada seluruh author yang telah melakukan Submission, saat ini server kami sedang terkendala untuk menerbitkan artikel Edisi Desember 2021, dan akan mengalami keterlambatan. Server sedang ditangani tim pengelola penyedia server dan akan diperbaiki secepat mungkin. Terima kasih atas pengertiannya dan mohon maaf atas ketidaknyamanannya

Link Surat Pemberitahuan

Posted: 2021-12-30
Vol 8, No 1 (2022): CaLLs, June 2022 (IN PRESS)
CaLLs Volume 8 Number 1 (2022) is published in electronic format.
Nationally accredited SINTA 4 by the Ministry of Research, Technology and Higher Education of the Republic of Indonesia
Table of Contents
Articles
| | | |
| --- | --- | --- |
| | Melly Melly, Ambalegin Ambalegin | 1 - 12 |
| | | |
| --- | --- | --- |
| | Hery Ricca, Ambalegin Ambalegin | 13 - 24 |
| | | |
| --- | --- | --- |
| | Lia Dewinta, Thifal Naurah | 35 - 48 |
| | | |
| --- | --- | --- |
| | Lidia Iskatriati, Lily Thamrin, Suhardi Suhardi | 59 - 68 |
| | | |
| --- | --- | --- |
| | Gede Eka Putrawan | 69 - 86 |