ISSN: 2460-674X (Print) (start from Vol.1 No.1 Agustus 2015)
E-ISSN: 2549-7707 (Online) (start from Vol.3 No.1 Juni 2017)
Accreditation: CaLLs accredited Rank 4 by Ministry of Research, Technology and Higher Education (Number 36/E/KPT/2019, December 13, 2019). Valid from Volume 5 Number 2 (2019) until Volume 10 Number 1 (2024).
CaLLs (Journal of Culture, Arts, Literature, and Linguistics) published by Fakultas Ilmu Budaya Universitas Mulawarman and published in June and December every year. CaLLs welcome articles and research reports utilizing an interdisciplinary approach to the study of culture. The object materials of the study may include aspects of language/linguistics, literature, arts (music and traditional arts).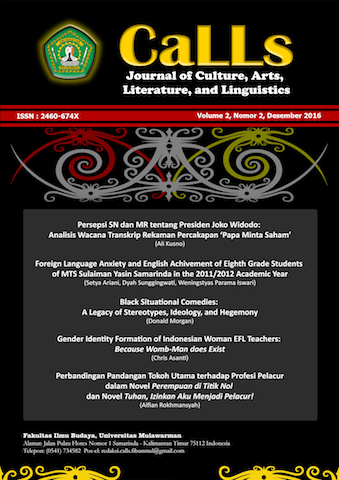 Announcements
No announcements have been published.
Vol 6, No 2 (2020): CaLLs, Desember 2020
Volume 6 Number 2 December 2020 edition is published in electronic format. 
Accredited Rank 4 by Ministry of Research, Technology and Higher Education
Table of Contents
Articles
| | | |
| --- | --- | --- |
| | Aina Sa'adah Batubara, Siti Norma Nasution, Diah Rahayu Pratama | 155-164 |
| | | |
| --- | --- | --- |
| | Nurhayati Br Tarigan, Tengku Silvana Sinar, Yulianus Harefa, Muhammad Yusuf | 165-180 |
| | | |
| --- | --- | --- |
| | Raden Atang Supriatna, Yogaprasta Adi Nugraha | 181-196 |
| | | |
| --- | --- | --- |
| | Zamrud Whidas Pratama, Yofi Irvan Vivian | 197-210 |
| | | |
| --- | --- | --- |
| | Purwanti Purwanti, Ian Wahyuni | 211-220 |
| | | |
| --- | --- | --- |
| | Hasna Dhia Irbah, Tri Indri Hardini, Velayeti Nurfitriana Ansas | 221-237 |
| | | |
| --- | --- | --- |
| | Camalia Fatih Nida | 238-253 |
| | | |
| --- | --- | --- |
| | A'idah Husna Lutfiyyah Ans, Ery Kurnia Devi, Fitri Icha Masdita, Muhammad Aflah Ardiansyah | 254-266 |
| | | |
| --- | --- | --- |
| | Tia Aprilianti Putri | 279-286 |