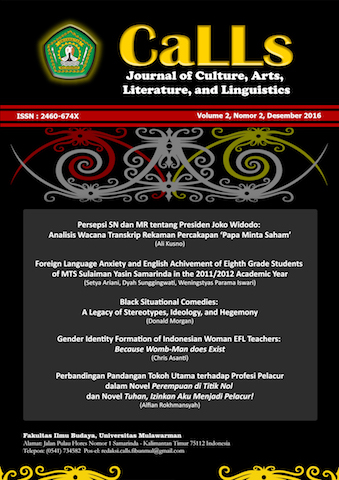 CaLLs (Journal of Culture, Arts, Literature, and Linguistics) published by Fakultas Ilmu Budaya Universitas Mulawarman and published in June and December every year. CaLLs welcome articles and research reports utilizing an interdisciplinary approach to the study of culture. The object materials of the study may include aspects of language/linguistics, literature, arts (music and traditional arts).
ISSN (print) : 2460-674X (start from Vol.1 No.1 Agustus 2015) 
ISSN (online) : 2549-7707 (start from Vol.3 No.1 Juni 2017)
CaLLs accredited Rank 5 by Ministry of Research, Technology and Higher Education (Number 30/E/KPT/2018, October 31, 2018). Valid from Volume 3 Number 1 (2017) until Volume 7 Number 1 (2021).
Announcements
Call for Papers

Jurnal CaLLs menerima artikel hasil penelitian dalam bidang sastra, bahasa, budaya, dan seni untuk dipublikasikan di Jurnal CaLLs. Penerimaan artikel (melalui menu submit artikel) diterima redaksi paling lambat tanggal 15 bulan April untuk diterbitkan pada bulan Juni, dan tanggal 15 bulan Oktober untuk diterbitkan pada bulan Desember. Penulisan artikel mengikuti aturan penulisan selingkung Jurnal CaLLs.

Jurnal CaLLs telah terakreditasi peringkat 5 sesuai dengan SK Ristekdikti Nomor 30/E/KPT/2018 tanggal 31 Oktober 2018.

Posted: 2018-11-12
More...
Vol 4, No 2 (2018): December 2018
Volume 4 Number 2 December 2018 edition is published in two formats: print and electronic. Accredited Rank 5 by Ministry of Research, Technology and Higher Education
Table of Contents
Editorial
Articles
| | | |
| --- | --- | --- |
| | Yedija Remalya Sidjabat, Vissia Ita Yulianto, Royke Bobby Koapaha | 77-88 |
| | | |
| --- | --- | --- |
| | Alfian Rokhmansyah, Irma Surayya Hanum, Dahri Dahlan | 89-102 |
| | | |
| --- | --- | --- |
| | Aris Setyoko, Rahayu Supanggah | 103-114 |
| | | |
| --- | --- | --- |
| | Famala Eka Sanhadi Rahayu, Susilo Susilo, Sunardi Sunardi | 115-122 |
| | | |
| --- | --- | --- |
| | Ulum Janah, Rosdiana Rosdiana, Nina Indriastuty | 123-140 |