PSIKOSTUDIA : Jurnal Psikologi  is a peer-reviewed journal which is published by Mulawarman University, East Kalimantan publishes biannually in Maret, July and November. This Journal publishes current original research on psychology sciences using an interdisciplinary perspective, especially within Organisational and Industrial Psychology, Clinical Psychology, Educational Psychology, and Experimental Psychology Studies.
PSIKOSTUDIA : Jurnal Psikologi published regularly twice a year in March, July and November. The purpose of this journal is to disseminate ideas and results of research conducted by universities, particularly Psychology Studies,  Faculty of Social and Political Sciences at Mulawarman University, which can be applied in society.
PSIKOSTUDIA : Jurnal Psikologi contains a variety of activities carried out both internally by the Social Sciences Mulawarman University or from externally in handling and overcoming various problems that occur in society by applying science and technology which can then be beneficial to improve the welfare of the society.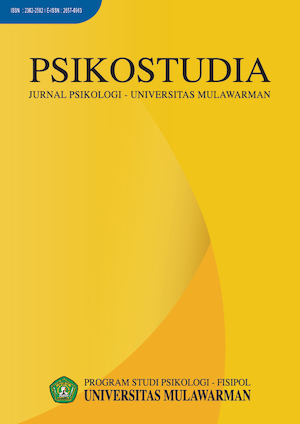 Vol 9, No 2 (2020): Volume 9, Issue 2, Juli 2020
Table of Contents
Articles
| | | |
| --- | --- | --- |
| | Agustinus Chrissang Maha Putra, Darmawan Muttaqin | 82-87 |
| | | |
| --- | --- | --- |
| | Ahmad Humaidi, Putri Putri, Tia Fahrina Aulia, Aulia Suhesty | 88-96 |
| | | |
| --- | --- | --- |
| | Andri Adi Wijaya, Eunike Setiawati, Setyani Alfinuha | 97-104 |
| | | |
| --- | --- | --- |
| | Hilda Rosa Ainiyah, Ika Yuniar Cahyanti | 105-113 |
| | | |
| --- | --- | --- |
| | Ika Nurfaustina Hapsari | 114-118 |
| | | |
| --- | --- | --- |
| | Michael Teguh, Astri Maria, Warni May Else Florence Gulo, Sri Hartini | 127-133 |
| | | |
| --- | --- | --- |
| | Rendra Agusta, Alimatus Sahrah | 134-142 |
| | | |
| --- | --- | --- |
| | Riska Sari, Putri Hanifah, Rahma Wati, Miranti R asyid | 143-153 |
| | | |
| --- | --- | --- |
| | Taufik Achmad Dwi Putro, Nabella Ajeng, Oom Qomariyah | 154-163 |