---
---
PLAKAT : Jurnal Pelayanan Kepada Masyarakat  is a multidisciplinary scientific journal of social and political science that presents the implementation of science and technology in solving problems in society. This journal contains the publication of the results of community service activities, models or concepts and or their implementation in the context of increasing community participation in development, community empowerment or the implementation of services to the community.
PLAKAT : Jurnal Pelayanan Kepada Masyarakat  published regularly twice the year in June and December. The purpose of this journal is to disseminate ideas and results of research conducted by universities, particularly the Faculty of Social and Political Sciences at Mulawarman University, which can be applied in society.
PLAKAT : Jurnal Pelayanan Kepada Masyarakat  contains a variety of activities carried out both internally by the Social Sciences Mulawarman University or from externally in handling and overcoming various problems that occur in society by applying science and technology which can then be beneficial to improve the welfare of the society.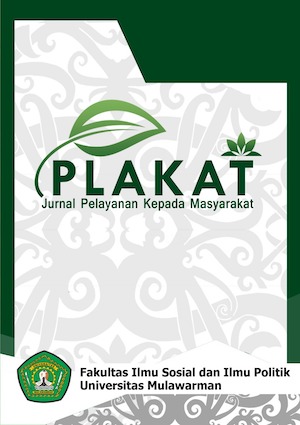 Announcements
CALL FOR PAPER 2023

Dear,

Lecturer, Researcher, Teacher, etc

We invite you to publish the results of devotion to the community, according to the scope of PLAKAT: Jurnal Pelayanan Kepada Masyarakat, in the period:

Vol. 5, No. 1, June 2023
Vol. 5, No. 2, December 2023 (Juli s/d November)

Please send your full paper (. * doc) via the Register/Login form.

Principal Contact

Email: ali.adriansyah@fisip.unmul.ac.id

Phone/WA: +62 813355350368

ATTENTION:

Please submit using a good and correct PLAKAT: Jurnal Pelayanan Kepada Masyarakat.
Reference at least 20, the last 10 years publication.
Recommended using Mendeley/Zotero/EndNote application in writing reference.
Plagiarism Check results a maximum of 20%.

Posted: 2022-01-01
Vol 4, No 2 (2022): Volume 4, Nomor 2 Desember Tahun 2022
Table of Contents
Articles
| | | |
| --- | --- | --- |
| | Belinda Arbitya Dewi, Rony Setianto, Norma Norma, Faradina Rosita, Muhammad Idris | 133-145 |
| | | |
| --- | --- | --- |
| | Sumi Lestari, Martomo Wahyudianto | 146-157 |
| | | |
| --- | --- | --- |
| | Muliati Usman, Dahlia Dahlia, Fadhilah Fadhilah | 158-176 |
| | | |
| --- | --- | --- |
| | Fahrianoor Fahrianoor, Muhammad Nizar Hidayat | 177-194 |
| | | |
| --- | --- | --- |
| | Zainal Abidin Achmad, Yenny Wuryandari, Kusuma Wardhani Mas'udah, M. Husni Tamrin | 195-211 |
| | | |
| --- | --- | --- |
| | Didiek Tranggono, Zainal Abidin Achmad, Ulya Sarofa, Wildan Taufik Raharja | 212-230 |
| | | |
| --- | --- | --- |
| | Yenny Wati, Yusrizal Yusrizal, Suharti Suharti | 231-242 |
| | | |
| --- | --- | --- |
| | Fahrul Agus, Gubtha Mahendra Putra, Zanu Alfandi Kamil, Iswanto Arifin, Okta Ihza Gifari | 243-252 |
| | | |
| --- | --- | --- |
| | Novi Satria Jatmiko | 253-266 |
| | | |
| --- | --- | --- |
| | Tasya Ayuwardani Putri, Diah Rahayu | 267-279 |