Informatika Mulawarman : Jurnal Ilmiah Ilmu Komputer (JIM) Is a means for researchers in the field of computer science to publish his research works. First published in 2007 with a two-yearly published period in February and September. Editorial Board Informatika Mulawarman consists of lecturers of computer science in the field of diverse concentration of expertise among others Software Engineering, Information Systems, Network and Computer Security, Image Processing, Multimedia, fuzzy logic, human interface and Artificial Intelligence. Until now, Journal of Informatics Mulawarman has been published as many as 13 volumes (Volume 13 issue 2 September 2018). For those interested in participating in JIM Volume 14 issue 1 February 2019 may submit the paper through our OJS. For Information and Services editorial information please contact jim.unmul@gmail.com no later than August 10, 2018, in addition, you can also prepare your paper for next edition of JIM. Every published article has Digital Object Identifier (DOI) by 
 according to issue and article number.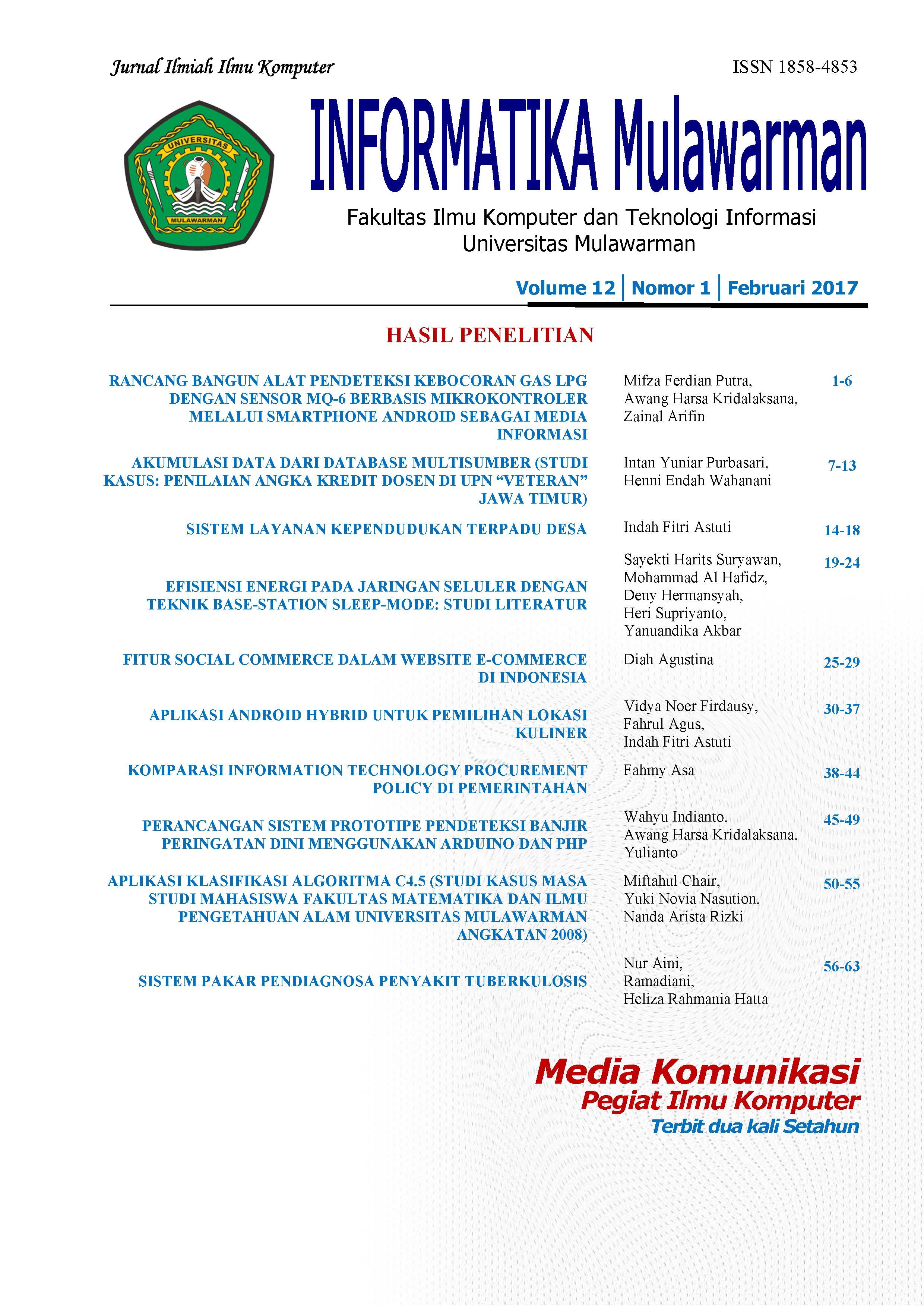 ---
Online Submissions
Already have a Username/Password for Informatika Mulawarman?
GO TO LOGIN
Need a Username/Password?
GO TO REGISTRATION
Registration and login are required to submit items online and to check the status of current submissions.
Vol 14, No 1 (2019): Informatika Mulawarman : Jurnal Ilmiah Ilmu Komputer
Informatika Mulawarman : Jurnal Ilmiah Ilmu Komputer The first issue of 2019 was published in February 2019. The number of published papers amounted to 10 journals.
Table of Contents
Articles
| | | |
| --- | --- | --- |
| | Hario Jati Setyadi, Medi Taruk, Herman Santoso Pakpahan | 1-6 |
| | | |
| --- | --- | --- |
| | Mukhroji Mukroji, Rizal Munadi, Syahrial Syahrial | 7-11 |
| | | |
| --- | --- | --- |
| | Herman Santoso Pakpahan, Hario Jati Setyadi, Yuniarta Basani | 12-16 |
| | | |
| --- | --- | --- |
| | Rizky Fitriani Kemala, Indah Fitri Astuti, Septya Maharani | 17-20 |
| | | |
| --- | --- | --- |
| | Akmal Erfani Armi, Awang Harsa Kridalaksana, Zainal Arifin | 21-26 |
| | | |
| --- | --- | --- |
| | Wayan Gede Suka Parwita | 27-32 |
| | | |
| --- | --- | --- |
| | Putut Pamilih Widagdo, Dedy Cahyadi | 33-38 |
| | | |
| --- | --- | --- |
| | Sari Iswanti, Ratih Novia Anggraeny | 39-45 |
| | | |
| --- | --- | --- |
| | Medi Taruk, Masna Wati, Eny Maria | 46-50 |
| | | |
| --- | --- | --- |
| | Guntoro Guntoro, Loneli Costaner, Lisnawita Lisnawita | 51-57 |