---
---
PSIKOBORNEO : Jurnal Ilmiah Psikologi is a peer-reviewed journal which is published by Mulawarman University, East Kalimantan publishes biannually in March, June, September and December. This Journal publishes current original research on psychology sciences using an interdisciplinary perspective, especially within Organitational and Industrial Psychology, Clinical Psychology, Educational Psychology, and Experimental Psychology Studies.
PSIKOBORNEO : Jurnal Ilmiah Psikologi published regularly quarterly in March, June, September, and December. The purpose of this journal is to disseminate ideas and results of research conducted by universities, particularly Psychology Studies, Faculty of Social and Political Sciences at Mulawarman University, which can be applied in society.
PSIKOBORNEO : Jurnal Ilmiah Psikologi contains a variety of activities carried out both internally by the Social Sciences Mulawarman University or from externally in handling and overcoming various problems that occur in society by applying science and technology which can then be beneficial to improve the welfare of the society.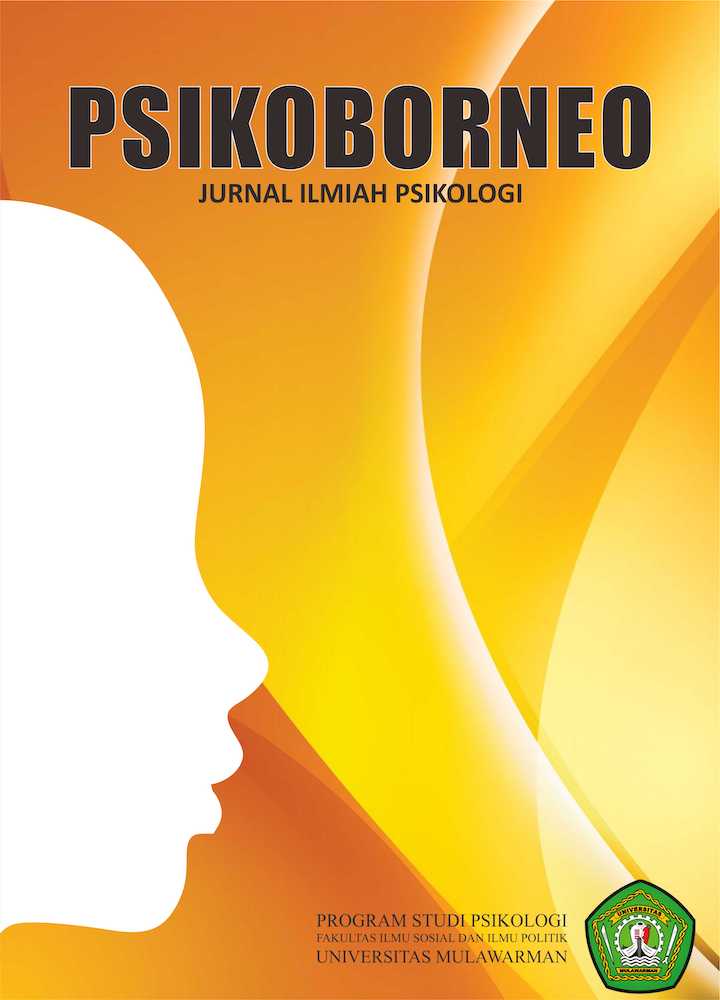 Announcements
No announcements have been published.
Vol 11, No 1 (2023): Volume 11, Issue 1, Maret 2023
Table of Contents
Articles
| | | |
| --- | --- | --- |
| | Andra Riyandi Dwitama, Hairani Lubis, Aulia Suhesty | 1-7 |
| | | |
| --- | --- | --- |
| | Michelle Vanya Honanda, Rudangta Arianti | 8-15 |
| | | |
| --- | --- | --- |
| | Zefanya Amarya Christy, Christiana Hari Soetjiningsih | 16-21 |
| | | |
| --- | --- | --- |
| | Fathia Afrazayne Safitri, Farida Kurniawati | 29-36 |
| | | |
| --- | --- | --- |
| | Siti Anisa Amidha, Farida Kurniawati | 37-47 |
| | | |
| --- | --- | --- |
| | As'liyanti Nor, Netty Dyan Prastika | 48-55 |
| | | |
| --- | --- | --- |
| | Debby Chintia Herrin, Muhammad Ali Adriansyah, Dian Dwi Nur Rahmah | 56-64 |
| | | |
| --- | --- | --- |
| | Desi Wulandri, Megawati Batubara | 65-71 |