SAINS, APLIKASI, KOMPUTASI DAN TEKNOLOGI INFORMASI is a peer-reviewed journal which is published by Faculty of Computer Sience and Information Technology, Universitas Mulawarman, East Kalimantan publishes biannually in April and August. This Journal publishes current original research on Computer Sciences using an interdisciplinary perspective, especially within Software Engineering, Information Systems, Network and Computer Security, Image Processing, Multimedia, Human Interface and Artificial Intelligence.
SAINS, APLIKASI, KOMPUTASI DAN TEKNOLOGI INFORMASI published at first Vol. 1, No. 1, 2019 in April 2019 and can accessed online on http://e-journals.unmul.ac.id/index.php/. 
Reviewers will review any submitted paper. Review process employs a double-blind review, which means that both the reviewer and author identities are concealed from the reviewers, and vice versa.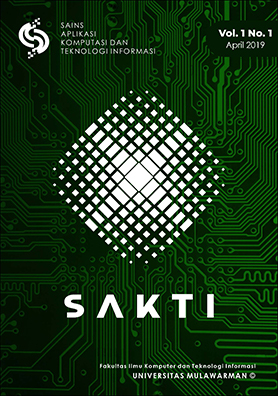 Vol 1, No 1 (2019): Sains, Aplikasi, Komputasi dan Teknologi Informasi
Journals Sains, Aplikasi, Komputasi dan Teknologi Informasi
Table of Contents
Articles
| | | |
| --- | --- | --- |
| | Achmad Faisal Randi, Indah Fitri Astuti, Putut Pamilih Widagdo | 1-6 |
| | | |
| --- | --- | --- |
| | Ali Sholihin, Haviluddin Haviluddin, Novianti Puspitasari, Masna Wati, Islamiyah Islamiyah | 7-15 |
| | | |
| --- | --- | --- |
| | Lia Khoirunnisa, Fachrul Kurniawan | 16-23 |
| | | |
| --- | --- | --- |
| | Hijratul Aini, Haviluddin Haviluddin, Edy Budiman, Masna Wati, Novianti Puspitasari | 24-33 |
| | | |
| --- | --- | --- |
| | Fachrul Kurniawan, Ade Sofiarani | 34-38 |