---
---
PSIKOSTUDIA : Jurnal Psikologi is a peer-reviewed journal which is published by Mulawarman University, East Kalimantan publishes four time a year in Maret, June, September and December This Journal publishes current original research on psychology sciences using an interdisciplinary perspective, especially within Organisational and Industrial Psychology, Clinical Psychology, Educational Psychology, and Experimental Psychology Studies.
PSIKOSTUDIA : Jurnal Psikologi contains a variety of activities carried out both internally by the Social Sciences Mulawarman University or from externally in handling and overcoming various problems that occur in society by applying science and technology which can then be beneficial to improve the welfare of the society.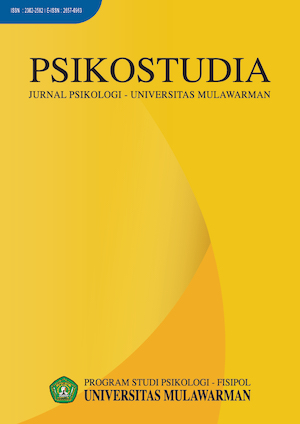 Announcements
No announcements have been published.
Vol 12, No 1 (2023): Volume 12, Issue 1, Maret 2023
Table of Contents
Articles
| | | |
| --- | --- | --- |
| | Aulia Diaz Kinanti, Chyntia Maharani, Dyah Anggi Syahputri, Aditya Yogiswara, Ellyana Dwi Farisandy | 1-7 |
| | | |
| --- | --- | --- |
| | Ocha Ayu Septianeke, Yusti Probowati Rahayu, Ayuni Ayuni | 8-17 |
| | | |
| --- | --- | --- |
| | Helsa Evania Prastowo, Fendy Suhariadi | 27-39 |
| | | |
| --- | --- | --- |
| | Ketut Ayu Pratithi Widnyanadita, Dewi Syarifah | 40-47 |
| | | |
| --- | --- | --- |
| | Muhammad Abduh Mushthofa, Seger Handoyo | 48-56 |
| | | |
| --- | --- | --- |
| | Jessica Christina Widhigdo | 57-63 |
| | | |
| --- | --- | --- |
| | Adela Seftiani, Sri Nugroho Jati, Risna Hayati | 64-69 |
| | | |
| --- | --- | --- |
| | R.R. Karina Putri Pramitadewi, Wiwin Hendriani | 70-78 |
| | | |
| --- | --- | --- |
| | Lysandra Hutomo, Primatia Yogi Wulandari | 79-86 |
| | | |
| --- | --- | --- |
| | Taufik Achmad Dwi Putro, Tenya Ika Agnesia, Oom Qomariyah | 87-91 |
| | | |
| --- | --- | --- |
| | Jemmi Halil Amiruddin, Ananta Yudiarso | 92-98 |
| | | |
| --- | --- | --- |
| | Thalia Angelica Rahardjo, Ratriana Yuli Endang Kusumiati | 99-104 |
| | | |
| --- | --- | --- |
| | Riri Octavianti, Mulia Marita Lasutri Tama | 105-110 |
| | | |
| --- | --- | --- |
| | Stevent Resma, Netty Dyan Prastika | 111-116 |
| | | |
| --- | --- | --- |
| | Marieta Vania Wellyan, Desak Nyoman Arista Retno Dewi | 117-122 |
| | | |
| --- | --- | --- |
| | Debby Nia Novinta, Endah Mastuti | 123-131 |
| | | |
| --- | --- | --- |
| | Ismaniar Ismaniar, Muhamad Uyun | 132-137 |
| | | |
| --- | --- | --- |
| | Titiana Irawati, Frikson Christian Sinambela | 138-145 |
| | | |
| --- | --- | --- |
| | Ravika Geofanny, Faraz Faraz | 146-154 |