Universitas Mulawarman (UNMUL) e-Journal Systems Portal
 is e-journal management and publishing system published by Universitas Mulawarman.



Journal Accreditation System Portal managed by Dikti: ARJUNA (

http://arjuna.dikti.go.id 

).

 
A B C D E F G H I J K L M N O P Q R S T U V W X Y Z All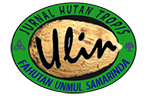 ULIN: Jurnal Hutan Tropis
ULIN: Jurnal Hutan Tropis published by Forestry Faculty of Mulawarman University, which is published twice a year in March and September with p-issn 2599-1205 and e-issn 2599-1183. It contains articles of research or study of literature in the field of Forest Management, Forest Conservation, Silviculture, and Forest Product. Language used for full article in this journal is Bahasa Indonesia, abstract in English and Bahasa Indonesia.
ULIN: Jurnal Hutan Tropis embodies research articles including:
1. Forest Management
2. Forest Conservation
3. Silviculture
4. Forest Product
5. Forest Ecology
6. Forestry Policy snd Politics
7. Ecotourism
8. GIS and Mapping
9. Social Forestry
10. Management of Watersheds
11. Environmental Services
12. Environmental Impact
13. Environmental Planning and Management
14. Climate Change
View Journal | Current Issue | Register
1 - 1 of 1 Items